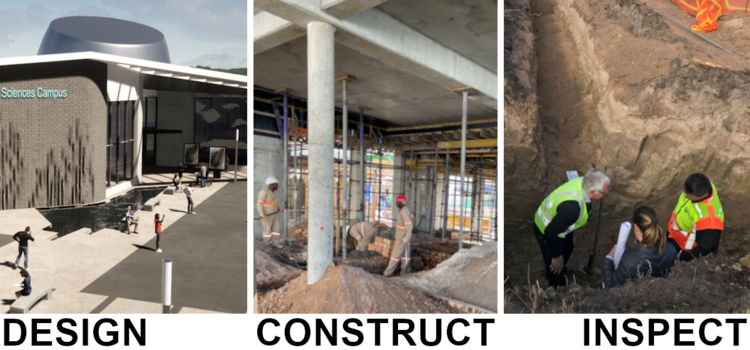 Trilogies of the National Building Regulations
Trilogy 1: The Three Enabling Intentions of the National Building Regulations
On the journey with our clients towards fulfilling the Vitruvian qualities of Firmness, Usefulness and Beauty in the buildings we build, we as Designers are enabled by the National Building Regulations. The regulations also enable Contractors and Building Inspectors to fulfil their respective roles.
The regulations clearly show in Part A, how the role players are enabled:
Designers

are

enabled

to

design buildings

which comply with the regulations.

Contractors

are

enabled

to

construct buildings

and their subsystems using conventional materials and construction techniques which are deemed to satisfy the regulations.

Local authorities

(Building Inspectors) are

enabled

to

establish compliance

(Inspect) with the regulation in a uniform and consistent manner.
The regulation must thus be used independently by Designers, Contractors and Inspectors to Design, Construct and Establish Compliance.
The Architect, who is skilled and trained as a designer, must ensure that the building design complies with the framework established by the regulations. The regulation, however, does not control more nuanced aspects of the design of buildings which may contribute towards the comfort and convenience of people as well as its market and economic performance. The Architect must interpret the needs of the building owner and its users to design a building which is appropriate, contextual and appealing.
The Contractor is skilled and resourced to construct the buildings and is enabled and informed by the regulations on how to build the regulated aspects, although the regulation does not purport to be a handbook of good building practice for the contractor. There is no need for an Architect to instruct a Contractor how to build the regulated portions of a building, as this is encapsulated within the regulation, but any part of the design not covered by the regulation, needs to be specifically addressed by the Architect.
Local Authorities (Building Inspectors) are empowered by the regulation to establish and enforce compliance. However, the fact that a building complies with the National Building Regulations does not make the building desirable or appropriate - it is for the Architect to take the design to this higher level. 
While meeting the requirements of the regulations, Balshaw and Fogarty Architects aim to fulfil Vitruvius' qualities of Firmness, Usefulness and Beauty in the buildings we design, offering much more to our clients and the users of the buildings.